Montreal, August 21, 2023 – Brunswick Exploration Inc. (TSX-V: BRW, OTCQB: BRWXF; "BRW" or the "Company") is pleased to announce that, since the restart of exploration work at the Mirage Project, located in the Eeyou Istchee-James Bay region of Quebec, field crews have successfully extended the length of the spodumene-bearing pegmatite boulder field and discovered several spodumene-bearing pegmatite outcrops. The previously announced boulder field (see June 14, 2023 press release) now extends over 3.0 kilometres in a northeast direction and well-mineralized pegmatite outcrops have been observed along a 2.7 kilometre-long trend further to the northeast. Both the extent of the outcrops and boulder train remain open in all directions.
Highlights:
The spodumene boulder dispersion train is very well defined and now extends for 3.0 km in NE-SW direction (See Figure 1);
The spodumene boulder dispersion train leads directly to several spodumene-bearing pegmatite outcrops that are spread over an additional 2.7 km along the same NE-SW trend, suggesting the geological strike is sub-parallel to glacial dispersion in this area. In total, the trend of boulders and outcrops covers over 5.5 kilometres of strike and remains open.
To date, five significant spodumene-bearing pegmatite dykes have been identified with apparent widths of 25 to 80 metres. The strike length of these dykes is unknown, and field measurements with magnetic data suggest structural complexity and possible variable strike directions to the dykes. Additionally, several thinner mineralized dykes have been identified in the area;
Another 13 kilometres of up-ice prospecting and geological mapping remains to be completed with several more reported pegmatite outcrops (Quebec government SIGEOM data base) to be examined, none of which have been previously evaluated for spodumene content.
Mr. Killian Charles, President and CEO of BRW, commented: "Today's announcement is an important milestone for Brunswick Exploration as the rapid discovery of several spodumene-bearing dykes in outcrops and a lengthy mineralized boulder trend highlights the excellent potential for a hard-rock lithium deposit. We expect to receive drill permits imminently and will begin a minimum 4,000 metres drill campaign in September. Furthermore, there remains multiple highly prospective areas across the Mirage Project which will be explored shortly."
Mirage Project Overview
Following the initial discovery of multiple plurimetric spodumene-bearing pegmatite boulders (see press release dated June 14, 2023), Brunswick Exploration focused its efforts in the SW portion of the Project. This initial prospecting campaign identified a total of 9 mineralized outcrop clusters with the largest spodumene-bearing cluster measuring approximately 80 metres wide by 100 metres long; all clusters remain open along strike (Figure 1). Most observable dykes are oriented in a SW-NE directions following a major structural trend that runs along the Project area in a similar SW-NE glacial direction, although some dykes show variable strike directions. In total, the trend of boulders and outcrops covers over 5.5 kilometres of strike and remains open in all directions (Figure 1).
The mineralized pegmatitic dykes identified to date are predominantly hosted by meta-basalts and amphibolite, and consequently the mineralized boulder and outcrop area will be covered by airborne LiDAR and magnetic surveys in the next three weeks to hopefully outline the unexposed strike extent of the mineralized dykes.
Figure 1: Location of spodumene-bearing outcrops and boulder train.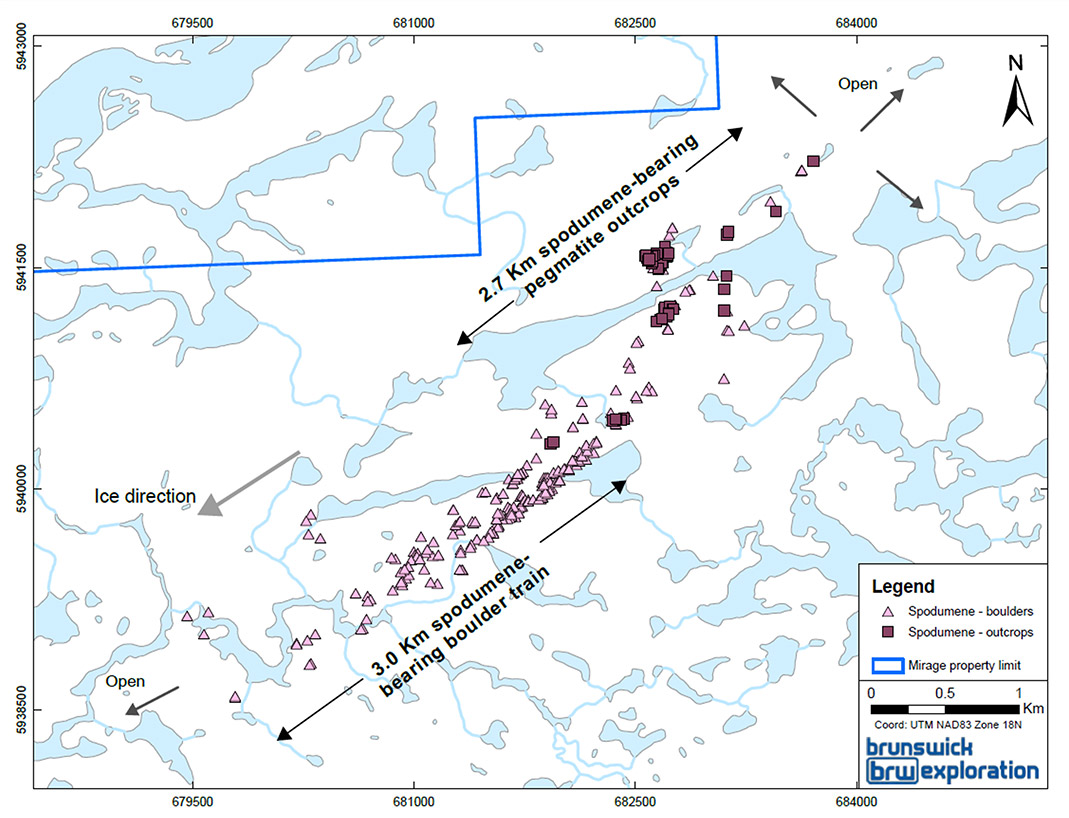 Lithium mineralization identified in outcrops is similar to the boulders observed to the southwest, consisting of well-defined, large, light grey spodumene crystals with mineralization varying between 5 and 50% of the pegmatite. Some of the outcrops have spectacular spodumene mineralization with crystals reaching a maximum length of 1 metre and, concurrently, widths in excess of 30 centimeters (Figures 2 and 3).
Figure 2: Mineralized outcrop with large prismatic spodumene crystals up to 50cm in length.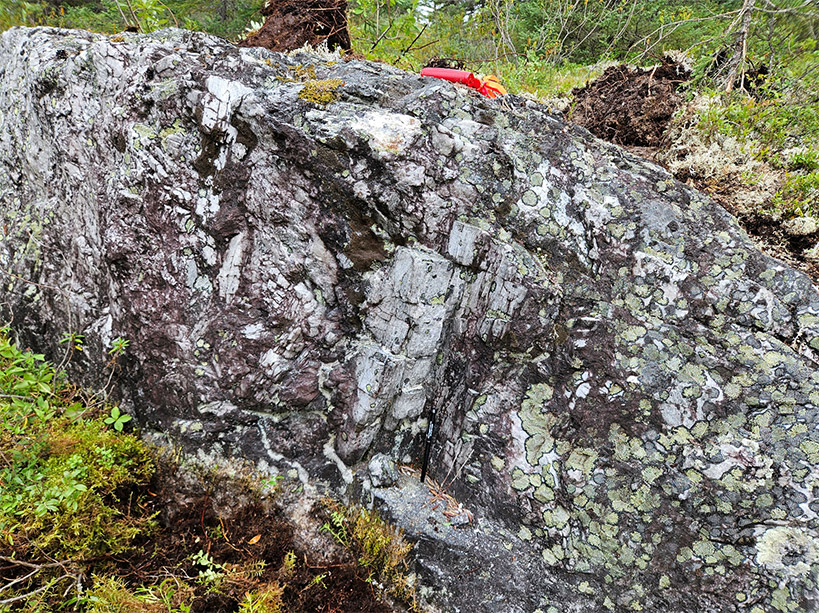 Figure 3: Another large, light-grey, prismatic spodumene crystal on the edge of an outcrop.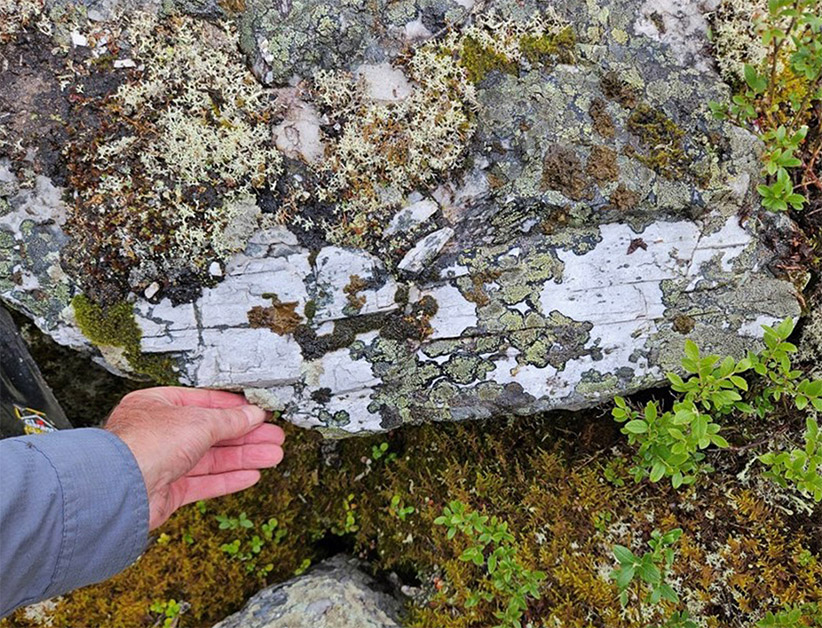 Figure 4: Mr. Rémi Charbonneau, Ph.D., P. Geo., of Inlandsis Consultants, discoverer of the Mirage lithium pegmatite field, examining a spodumene-rich outcrop.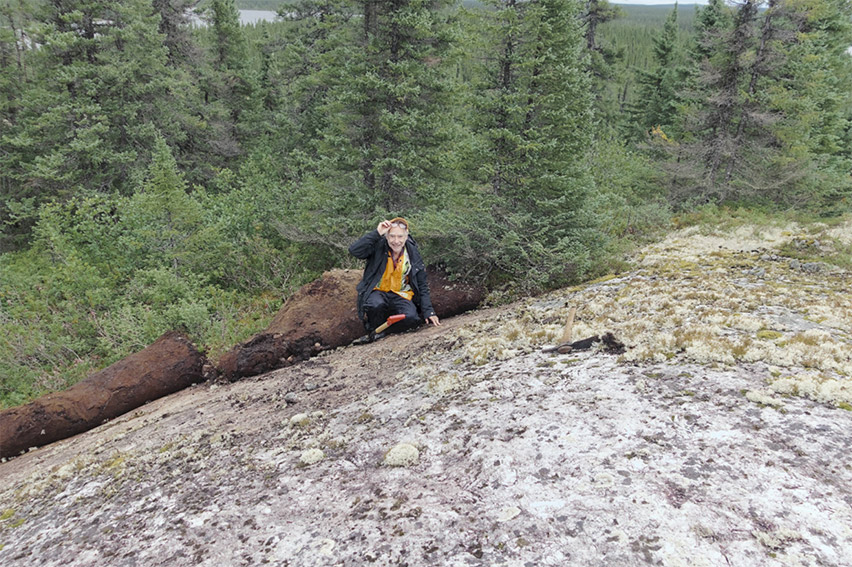 The rest of the Project area remains unexplored and there are several other pegmatite outcrops that have been noted by government geologists in previous surveys but have not been field checked for spodumene mineralization. About 13 kilometres of favorable geology up-ice from the current discoveries remains untested.
Next steps at Mirage will focus on continued prospecting, airborne surveys and the initiation of a drilling program. The Company is targeting a minimum of 4,000 metres of drilling based on available information starting in September. Prior to the start of drilling, BRW will complete detailed LiDAR and a high-resolution airborne magnetic survey to further define extent of pegmatite dykes and drill targets.
Purchase of Additional Surrounding Claims
1Minerals
Brunswick Exploration has entered into a transaction with 1Minerals Corp. ("1Minerals") to purchase certain claims contiguous to the Mirage Project as well as an additional regional lithium grassroot claim package as it continues to develop the lithium discovery at Mirage. The terms of the transaction are as follows:
Purchase transaction to buy 100% interest in claims held by 1Minerals.
Cash payment of $500,000 within 5 days of TSX-V approval of the Definitive Agreement
Further payment of $3,000,000 in cash, shares or a combination of both at BRW's discretion on signing of Definitive Agreement under the following schedule:

$500,000 within 5 days of TSX-V approval of the Definitive Agreement
$500,000 on the first-year anniversary of the signing of the Definitive Agreement
$500,000 on the second-year anniversary of the signing of the Definitive Agreement
$750,000 on the third-year anniversary of the signing of the Definitive Agreement
$750,000 on the fourth-year anniversary of the signing of the Definitive Agreement
Milestone payments, in cash, shares or a combination of both at BRW's discretion, under the following schedule:

$250,000 upon publication of a Mineral Resource Estimate
$750,000 upon publication of a Preliminary Economic Assessment
$1,250,000 upon publication of a positive Feasibility Study

Gross Royalty of 3% on spodumene concentrate sales, of which the first 1% can be repurchased for $1,000,000 and the second 1% can be repurchased for $3,000,000.
Osisko Development
Brunswick Exploration has also entered into a transaction with Osisko Development Corp through General Partnership Osisko Baie James ("Osisko GP") in which the Company has to option to acquire a 75% undivided interest in 8 claims in the immediate area of the Mirage Project under the following terms:
Option transaction to earn 75% interest in claims held by Osisko GP.
Osisko GP's remainder interest (25%) to be free carried to a final construction decision.
The option will be exercisable concurrently with the successful completion of the existing Option Agreement between Brunswick Exploration and Osisko GP covering the option to acquire a 90% interest in the PLEX, Anatacau West and Anatacau Main Projects.
Qualified Person
The scientific and technical information contained in this press release has been reviewed and approved by Mr. François Goulet, Manager Quebec. He is a Professional Geologist registered in Quebec and is a Qualified Person as defined by National Instrument 43-101.
About Brunswick Exploration
Brunswick Exploration is a Montreal-based mineral exploration company listed on the TSX-V under symbol BRW. The Company is focused on grassroots exploration for lithium in Canada, a critical metal necessary to global decarbonization and energy transition. The company is rapidly advancing the most extensive grassroots lithium property portfolio in Canada with holdings in Quebec, Ontario, Saskatchewan, Manitoba, New Brunswick and Nova Scotia.
Investor Relations/information
Mr. Killian Charles, President and CEO (info@brwexplo.ca)
Cautionary Statement on Forward-Looking Information
This news release contains "forward-looking information" within the meaning of applicable Canadian securities legislation based on expectations, estimates and projections as at the date of this news release. Forward-looking information involves risks, uncertainties and other factors that could cause actual events, results, performance, prospects and opportunities to differ materially from those expressed or implied by such forward-looking information. Factors that could cause actual results to differ materially from such forward-looking information include, but are not limited to, delays in obtaining or failures to obtain required governmental, environmental or other project approvals; uncertainties relating to the availability and costs of financing needed in the future; changes in equity markets; inflation; fluctuations in commodity prices; delays in the development of projects; the other risks involved in the mineral exploration and development industry; and those risks set out in the Corporation's public documents filed on SEDAR at www.sedar.com. Although the Corporation believes that the assumptions and factors used in preparing the forward-looking information in this news release are reasonable, undue reliance should not be placed on such information, which only applies as of the date of this news release, and no assurance can be given that such events will occur in the disclosed time frames or at all. The Corporation disclaims any intention or obligation to update or revise any forward-looking information, whether as a result of new information, future events or otherwise, other than as required by law. Neither the TSX Venture Exchange nor its Regulation Services Provider (as that term is defined in the policies of the TSX Venture Exchange) accepts responsibility for the adequacy or accuracy of this news release.