Montreal, April 25th, 2023 – Brunswick Exploration Inc. (TSX-V: BRW; OTCQB: BRWXF "BRW" or the "Company") is pleased to announce that its common shares are now trading on the OTCQB Venture Market, a U.S. market operated by OTC Markets Group Inc. ("OTC") in New York, under the symbol "BRWXF''. The Company will continue to trade on the TSX Venture Exchange under its symbol "BRW".
Killian Charles, President and CEO, commented: "As one of the largest lithium grassroot exploration company in the Americas, the new listing on the OTC will allow a broader group of investors to participate in our lithium exploration strategy and Brunswick Exploration will benefit from the improved visibility and trading liquidity for U.S. institutional and retail investors."
The OTC operates the world's largest electronic interdealer quotation system for US broker dealers and offers multiple media channels to increase the visibility of OTC-listed companies. Trading on the OTCQB Market enables companies to efficiently build broader investor awareness and provide U.S. investors with a seamless trading facility to more easily trade through the broker of their choice.
U.S. investors can find current financial disclosure and Real-Time Level 2 quotes for the Company on www.otcmarkets.com/stock/BRWXF/quote.
Update to Prior Transactions
Acquisition of 5 mining claims in the Baie James area
The Company entered into a purchase agreement dated February 11, 2023 with Wayne Holmstead (the "Seller") for the purchase of a 100% interest in 5 mining claims located in the Eeyou Istchee-James Bay region of Quebec (the "Property"). The Company paid an amount of $5,000 in cash and issued 12,500 common shares to the Seller as consideration for the Property. The Seller retains a 2% net smelter return overriding royalty on the Property, half of which the Company may purchase for $1,000,000.
Option agreement with Globex Mining Enterprises Inc.
The Company has made the first payment of $25,000 in cash and $25,000 in common shares required under the option agreement entered into on January 5, 2023 with Globex Mining Enterprises Inc. (the "Globex Agreement"). As previously disclosed in a news release dated January 24, 2023, the  Globex Agreement allows the Company to acquire up to a 100% undivided interest in the "Lac Escale" claim block, comprised of 96 mining claims located in the Eeyou Istchee-James Bay region of Quebec. Additional payments totalling $425,000 must be made by the Company over a 3-year period in order to exercise the option, half of which will paid in common shares of the Company at a minimum deemed value of $045 per common share (representing a maximum of 500,000 additional common shares).
Option Agreement with General Partnership Osisko Baie James
Pursuant to an agreement initially entered into in November 2022 and signed on March 1, 2023 between the Company and General Partnership Osisko Baie James ("Osisko GP"), the Company may acquire a 90% the Anatacau and PLEX properties, in consideration for payment in common shares of the Issuer and the execution of exploration work. The terms of this transaction are described in news releases dated November 28, 2022 and December 5, 2022. These initial announcements however incorrectly stated that the agreement was entered into with Osisko Development Inc., an affiliated entity of Osisko GP. This transaction remains subject to the approval of the TSX Venture Exchange.
Grant of Options
Brunswick Exploration wishes to announce that the Company's Board of Directors have approved the grant of incentive stock options to certain directors, officers, key employees and key consultants to purchase up to an aggregate of 2,250,000 common shares in the capital stock of the Company. Grants are subject to a three-year vesting period and a five-year term at an exercise price of $0.83 per share.
Correction to "Table 1: Drill Holes with Pegmatite Intersections Greater Than Two Meters"
BRW would like to correct certain values (Easting, Northing and Azimuth) for four holes (AW-23-01, AW-23-16, AW-23-17 and AW-23-18) in the April 20th News Release. All other values and the provided map in the News Release remain accurate.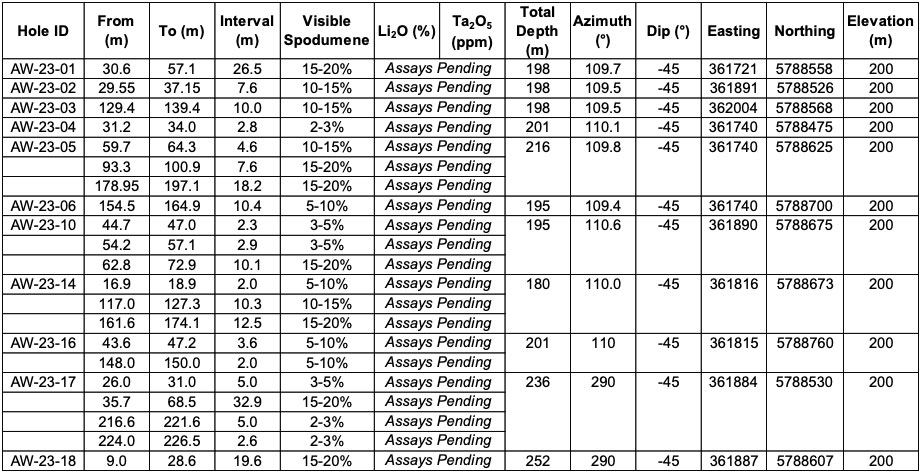 About Brunswick Exploration
Brunswick Exploration is a Montreal-based mineral exploration company listed on the TSX-V under symbol BRW. The Company is focused on grassroots exploration for lithium in Canada, a critical metal necessary to global decarbonization and energy transition. The company is rapidly advancing the most extensive grassroots lithium property portfolio in Canada with holdings in Quebec, Ontario, Saskatchewan, Manitoba, New Brunswick and Nova Scotia.
Investor Relations/information
Mr. Killian Charles, President and CEO (info@BRWexplo.com)
Neither TSX Venture Exchange nor its Regulation Services Provider (as that term is defined in policies of the TSX Venture Exchange) accepts responsibility for the adequacy or accuracy of this release
Cautionary Statement on Forward-Looking Information
This news release contains "forward-looking information" within the meaning of applicable Canadian securities legislation based on expectations, estimates and projections as at the date of this news release. Forward-looking information involves risks, uncertainties and other factors that could cause actual events, results, performance, prospects and opportunities to differ materially from those expressed or implied by such forward-looking information. Factors that could cause actual results to differ materially from such forward-looking information include, but are not limited to, delays in obtaining or failures to obtain required governmental, environmental or other project approvals; uncertainties relating to the availability and costs of financing needed in the future; changes in equity markets; inflation; fluctuations in commodity prices; delays in the development of projects; the other risks involved in the mineral exploration and development industry; and those risks set out in the Corporation's public documents filed on SEDAR at www.sedar.com. Although the Corporation believes that the assumptions and factors used in preparing the forward-looking information in this news release are reasonable, undue reliance should not be placed on such information, which only applies as of the date of this news release, and no assurance can be given that such events will occur in the disclosed time frames or at all. The Corporation disclaims any intention or obligation to update or revise any forward-looking information, whether as a result of new information, future events or otherwise, other than as required by law. Neither the TSX Venture Exchange nor its Regulation Services Provider (as that term is defined in the policies of the TSX Venture Exchange) accepts responsibility for the adequacy or accuracy of this news release.