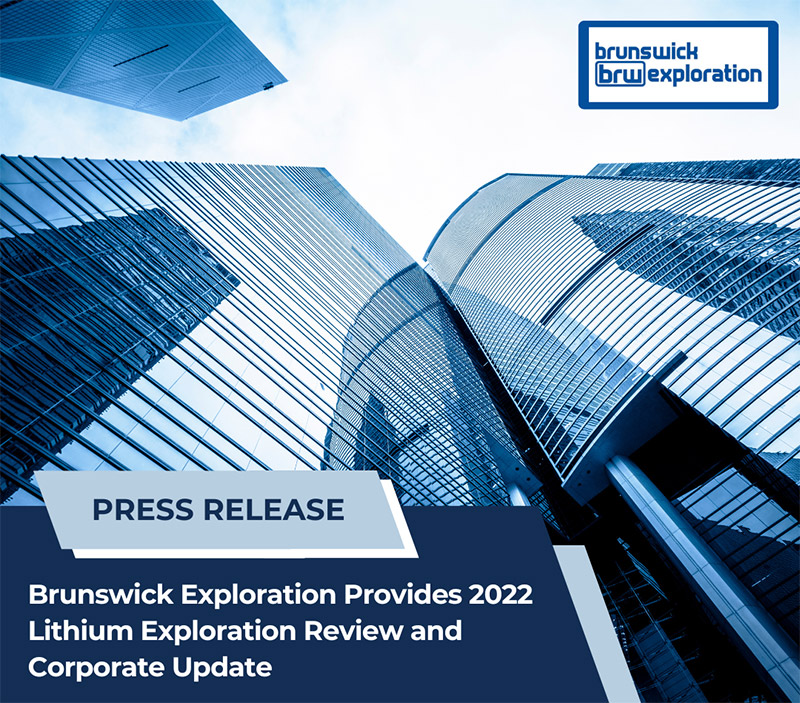 Montreal, January 4, 2023 – Brunswick Exploration Inc. (TSX-V: BRW; "BRW" or the "Company") is pleased to provide a brief review of its inaugural 2022 grassroot lithium exploration campaign as it prepares for a broader $6 million exploration program in 2023, focused on the Hearst area of Ontario and the James Bay region of Quebec. Details thereof, including two drilling programs, will be announced in early February. The Company also wishes to announce management changes to better accomplish its objectives.
Mr. Killian Charles, CEO & President of BRW, commented: "The work completed in 2022 allowed us to refine our exploration model and test our targeting system. In only a few short months, we have identified several high-priority targets in Quebec and Ontario. These targets will see more work throughout 2023 starting with drilling at our Hearst project in Ontario and the recently optioned Anatacau project in James Bay, Quebec. We have considerably more work to accomplish this year and, with the recent closing of our brokered financing, we are prepared to launch the largest exploration campaigns in our Company's history. I invite shareholders to remain attentive for a more fulsome announcement in early February concerning our 2023 program."
2022 Exploration Review
Ontario
Hearst
Since consolidating and optioning the project in late Q3, a first pass ATV, truck and helicopter supported prospecting program was conducted at the Hearst Project in Northern Ontario over a period of five weeks. Multiple new and evolved pegmatites of varying length and widths, up to eight kilometres away from the Decoy showing, were discovered that have similar pXRF field measurement values and mineralogy as the LCT ("Lithium-Cesium-Tantalum") Decoy pegmatite. The area is being actively logged which will only serve to further improve access and exposure. More prospecting, stripping and trenching are planned in H1 2023 for these newly discovered pegmatites. A maiden program is being prepared to drill the Decoy pegmatite and details will be disclosed in the February update.
Quebec
Abitibi – Pontiac project
The Company prospected 14 claim blocks in the Pontiac geological subregion of the Abitibi in 2022, covering an equal number of large pegmatite fields. All but two projects were hosted within the Descelles S-type granite batholith. Evolved pegmatites were identified on several blocks but no LCT pegmatites were uncovered. However, in Q4 2022, BRW field teams identified several pegmatites south of Rouyn-Noranda (the Kinojevis project) which returned pXRF field measurements typically associated with highly evolved LCT pegmatites. These pegmatites will be mechanically uncovered as soon as weather permits in order to expose complete cross-sections across the dykes prior to channel sampling and assaying.
North Shore
Prospecting in summer 2022 located a region measuring approximately six square kilometers of highly evolved pegmatitic sills on wholly-owned BRW claims. PXRF field measurement values reported within the sill were similar to those commonly observed in LCT pegmatites. This area was more closely mapped in early Q4 2022 and, although certain indicator minerals were identified, no lithium mineralization was uncovered. The sills are generally gently dipping and less than 10 metres in thickness. More regional prospecting is planned in 2023 to better explain the highly anomalous field measurement values identified.
James Bay (Eeyou Istchee)
The Company has now secured 46 claim blocks (over 3,100 claims) in the James Bay (Eeyou Istchee) region through direct staking and options agreements. These blocks collectively host over 250 outcropping, untested S-type pegmatite dykes with strike lengths ranging from 600 to 3,600 meters. The James Bay region will be the top priority for the 2023 exploration program in Quebec, testing multiple pegmatite targets for LCT mineralization and starting a drill program that tests potential extensions to Allkem's James Bay Lithium deposit (historically known as the Cyr deposit) in Q1 2023.
Nova Scotia
Prospecting was conducted on the South Mountain Batholith project in Western Nova Scotia in late Q2 2022. The Company identified several promising areas of interest with certain grab samples returning up to 580 ppm lithium and re-sampling of historical diamond drill core producing up to 730 ppm lithium. In addition, a 385-sample soil survey was conducted near the New Ross area in central Nova Scotia to expand on elevated historical soils and prospecting. Highlights from the survey include 96 samples with results between 100 and 149 ppm lithium as well as a further 35 samples between 150 and 310 ppm lithium. These results were clustered in several areas neighboring highly evolved pegmatitic boulders potentially indicating the presence of new LCT pegmatites in the New Ross region. The highly prospective area is spread over a 1.8-kilometer trend and remains open to the North, South and West. Soils were taken at 25 metres spacing on lines spaced 100 metres apart. Prospecting, soils and stripping are planned for H1 2023 centered on the highly anomalous zone.
New Brunswick
Prospecting was conducted at the Caledonia, Hawkshaw and Catamaran projects in early Q2 2022 over a six-week period. BRW began focusing on the Catamaran project as grab samples returned anomalous lithium content potentially indicating the presence of LCT pegmatites. A limited 280 sample till program was completed in Q3 and results were received in late Q4. 19 samples returned anomalous lithium values between 58 ppm and 90 ppm in tills. This program has a sample spacing of roughly 500 metres. The grab samples, till results and pXRF field measurement values are being evaluated for next steps.
Newfoundland
Helicopter supported prospecting took place at the Port-Aux-Basques, Hermitage and Rencontre East projects in early Q3 over a three-week period. Numerous pegmatites were evaluated using pXRF field measurements and 35 samples were sent to the lab for further analysis and confirmation. No prospective pegmatites were identified with the pXRF, which was confirmed following receipt of sample analyses.
Management Changes
Brunswick Exploration wishes to announce that Killian Charles, President of BRW, has assumed the role of CEO & President as of January 1st. He is concurrently leaving his role of Vice President Corporate Development at Osisko Metals to better his focus his time on BRW. He will remain at Osisko Metals in an advisory capacity. Robert Wares, currently Chairman & CEO of BRW, is now Executive Chairman effective January 1st.
The Company would also like to announce that Mr. François Goulet, MSc., P. Geo., has joined the BRW team as Exploration Manager – Quebec.  Mr. Goulet holds a master's degree in structural geology from the Université du Québec à Montréal (UQÀM). In recent years he was President and CEO of Harfang Exploration Inc., a gold project generator in the James Bay region. He has extensive experience working in the James Bay region of Quebec as well as international experience in a variety of exploration projects. Mr. Goulet has worked for Virginia Mines Inc, Unigold Inc, Maya Gold and Silver, the Canadian Malartic Partnership, Glencore Canada and several other junior companies. He is a member of the Board of Directors of l'Association de l'exploration minière du Québec (AEMQ) and a registered geologist with the Ordre des géologues du Québec since January 2011.
Robert Wares, Executive Chairman, stated: "These changes will align the management team more closely with company needs following the rapid growth of our exploration program in 2022 and the increased pace expected in 2023.  We are now fully funded for the coming year and I look forward to continuing to work closely with Killian and the team, which now includes Mr. François Goulet, as we launch an exciting year for Brunswick Exploration."
QAQC and Pegmatite Filtering Methodology
Samples were sent to various ALS Laboratories preparation facilities throughout Canada and were analyzed in Vancouver, British Columbia. Whole rock samples were analyzed using methods ME-MS89L or ME-MS81. Till and soil samples were analyzed using methods ME-MS81 and ME-ICP82b. Details of analytical methods, precisions and detection limits are available under the Geochemistry Section on the ALS Laboratories website (www.ALSglobal.com).
Pegmatites are filtered for prospectivity in the field through direct pXRF ("portable XRF spectrometers") outcrop measurements on the basis of rubidium (Rb) and potassium (K) ratios in feldspars and micas. Both elements are easily detectable by calibrated pXRF spectrometry with a relatively high degree of precision. Rb values in excess of 3,000ppm in feldspars and 10,000ppm in micas and K/Rb ratios below 30 in feldspars and 20 in micas are reliable indicators of an evolved pegmatite offering potential LCT mineralization. Multiple measurements are taken on every pegmatite outcrop to minimize user errors. The pXRF measurements are used in combination with observed mineralogy to determine whether the pegmatite is prospective and merits further work. Pegmatites with low Rb values and hence high K/Rb ratios are rejected.
Qualified Person
For information pertaining to Quebec, the scientific and technical information contained in this press release has been reviewed and approved by Mr. Jeff Hussey, Director of Brunswick Exploration. He is a Professional Geologist registered in Quebec. Going forward, Mr. François Goulet, P. Geo., will take over the role of Qualified Person for BRW's Quebec projects.
For information pertaining to Ontario and Atlantic Canada, the scientific and technical information contained in this press release has been reviewed and approved by Mr. Charles Kodors, Manager Atlantic Canada. He is a Professional Geologist registered in Ontario, Nova Scotia and New Brunswick.
About Brunswick Exploration
Brunswick Exploration is a Montreal-based mineral exploration company listed on the TSX-V under symbol BRW. The Company is focused on grassroots exploration for lithium in Eastern Canada, a critical metal necessary to global decarbonization and energy transition. The company is rapidly advancing the most extensive grassroots lithium project portfolio in Canada with holdings in Quebec, Ontario, New Brunswick and Nova Scotia.
Investor Relations/information
Mr. Killian Charles, CEO & President (info@BRWexplo.com)
Neither TSX Venture Exchange nor its Regulation Services Provider (as that term is defined in policies of the TSX Venture Exchange) accepts responsibility for the adequacy or accuracy of this release
Cautionary Statement on Forward-Looking Information
This news release contains "forward-looking information" within the meaning of applicable Canadian securities legislation based on expectations, estimates and projections as at the date of this news release. Forward-looking information involves risks, uncertainties and other factors that could cause actual events, results, performance, prospects and opportunities to differ materially from those expressed or implied by such forward-looking information. Factors that could cause actual results to differ materially from such forward-looking information include, but are not limited to, delays in obtaining or failures to obtain required governmental, environmental or other project approvals; uncertainties relating to the availability and costs of financing needed in the future; changes in equity markets; inflation; fluctuations in commodity prices; delays in the development of projects; the other risks involved in the mineral exploration and development industry; and those risks set out in the Corporation's public documents filed on SEDAR at www.sedar.com. Although the Corporation believes that the assumptions and factors used in preparing the forward-looking information in this news release are reasonable, undue reliance should not be placed on such information, which only applies as of the date of this news release, and no assurance can be given that such events will occur in the disclosed time frames or at all. The Corporation disclaims any intention or obligation to update or revise any forward-looking information, whether as a result of new information, future events or otherwise, other than as required by law. Neither the TSX Venture Exchange nor its Regulation Services Provider (as that term is defined in the policies of the TSX Venture Exchange) accepts responsibility for the adequacy or accuracy of this news release.